George Moss & Sons Ltd, the owners of Moss Industrial Estate, has an extensive history dating back to 1920 when the company was incorporated.
Security is now one of the biggest concerns for all business owners. Theft and vandalism doesn't only cost money, perhaps more importantly it costs time.
Moss Industrial Estate offers tenants peace of mind as they know that someone is looking after their premises 24 hours a day, 7 days a week, 365 days a year.
Over many years we have developed a comprehensive security package which is both extremely effective and offers great value for money for our tenants. The package is based on a combination of CCTV coverage, vehicle monitoring and most importantly onsite security personnel patrolling every corner of the estate.
We take great care to create an attractive place to work so you and your employees can enjoy their working day. The landscaped gardens, clean and tidy courts and quality industrial units give the right first impression to customers and suppliers as they visit your premises. In a competitive world these small details make all the difference.
Being part of the largest enterprise zone in the Wigan Borough brings many advantages. Customers and suppliers on your doorstep; thoughts, ideas and opinions shared. All on an estate which is run by a family company which are based on-site ready to respond to customers needs. Just one of the reasons why Moss Industrial Estate encourages growth.
Located just off the A580, East Lancs road, Moss Industrial Estate is within easy reach of Manchester, Liverpool, Warrington and Wigan meaning your business has easy access to customers and suppliers locally, nationally and internationally via the national motorway and rail network, and international airports which are less than 30 mins away.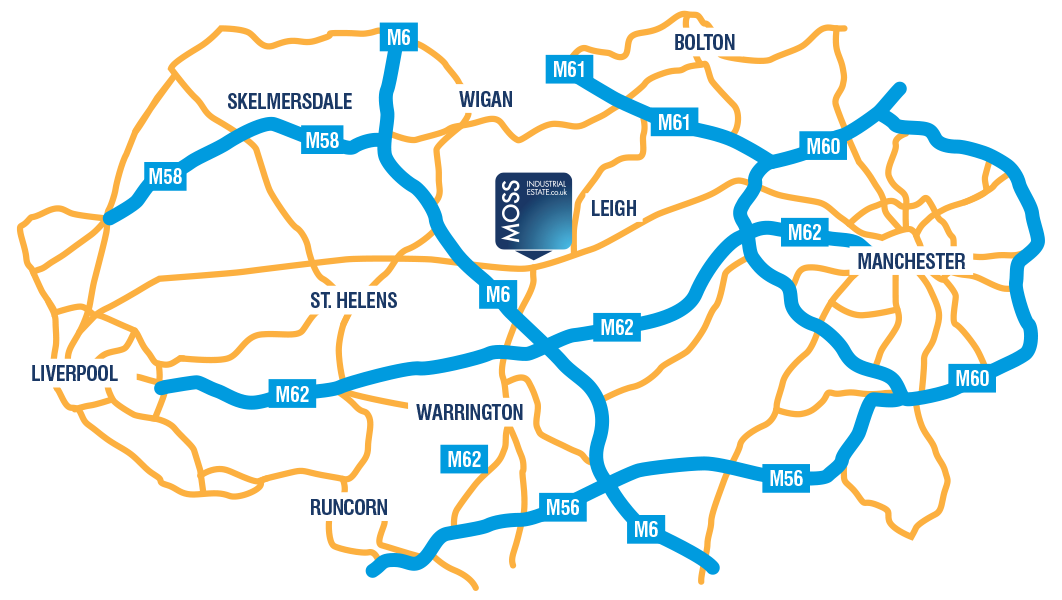 Ideally situated for access to…
National Rail Network
Warrington – 8 miles
Wigan – 8 miles
Motorway Networks
M6 – 2.1 miles
M60 – 2 miles
M61 – 3 miles
International Airports
Manchester – 11 miles
Liverpool – 13 miles
Major City Centres
Manchester – 12 miles
Liverpool – 15 miles