Allied Infrastructure
Allied Infrastructure is a specialist contractor
covering numerous specialist services.
David Fraser, Managing Director, joined the company in 2019. David has 40 years' experience in the Aviation Industry.
We have a highly experienced management team and a directly employed, experienced multi skilled work force who understand the constraints and challenges of working with a variety of stake holders such as Airports, Highways, Defence establishments, retail sector and ports.
We work on all the UK civil and military airfields, undertaking all aspects of airside and landside airport infrastructure maintenance, as well as a number of Highways England and Highways maintenance contracts.
We are the Principal contractor on the MAG Framework (Manchester Airport Group).
We do Surface Preservation and in 2020 we delivered the biggest Rhinophalt job ever in Europe.
We expanded the Surface Preparation (SP) team and we now do grit blasting and grinding across entire length of UK and Europe this includes car parks, roads, bridges, and ship decks. We are one of the few companies in the UK that have the specialist equipment to carry out Surface Preparation.
We have expanded further into wire cutting, drilling, and sawing.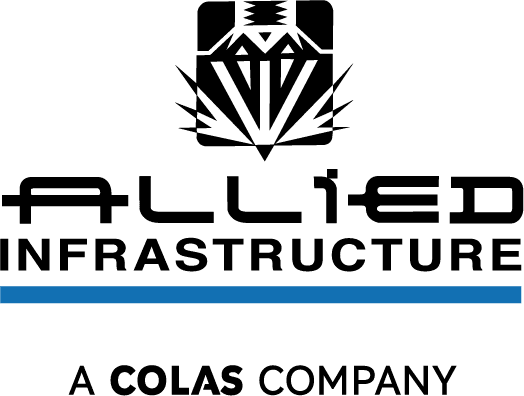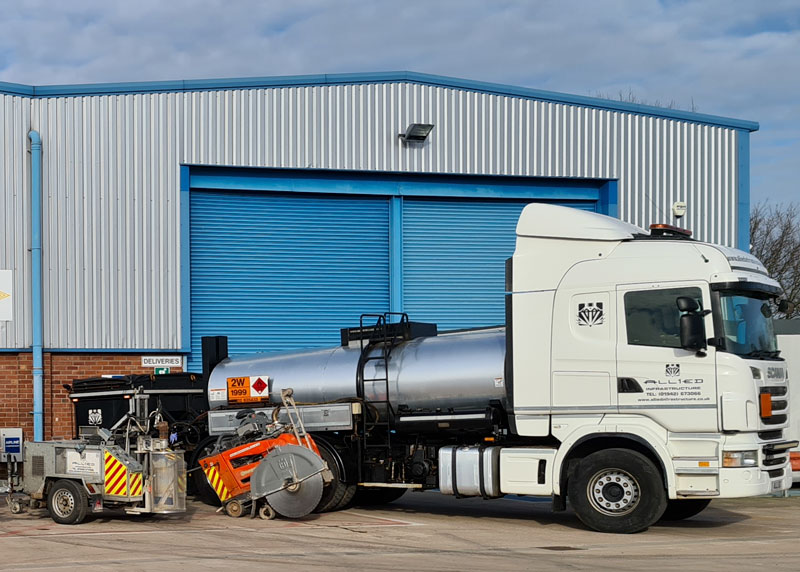 When was the business founded?
The business, originally called Allied Drilling, was founded in 1994 by brothers Charlie and Les Jones. At this stage, Allied specialised in concrete drilling and cutting. They took on a small unit at Moss Industrial Estate and employed around 4 people.
In 2010, Charlie's son, Ian Jones, became the Managing Director. The following year, Allied moved into bigger premises on the industrial estate as they were starting to take on bigger projects which required more equipment, staff and storage.
How has the business grown?
The business went from strength to strength and, in 2013, Allied Drilling Ltd became Allied Infrastructure Management Ltd. The company diversified and began working in a number of different sectors and specialist fields.
We became the principal contractor for many of our clients and expanded into Europe, taking on a huge project to rejuvenate an entire airport in Belgium. We also opened a second site, a specialist surface preparatory division based in Lincoln, and made a huge investment in equipment to enable us to manufacture our own surface treatments.
In 2017, Allied was acquired by Colas UK, a French owned company which operates globally. The Colas UK airfields team merged with our Allied team and we now have a team of 64 staff.
What is the biggest challenge Allied has faced?
As a business we have faced small challenges however no single major challenge. The acquisition of Colas has opened a lot of doors for Allied and created many more opportunities and we have restructured the team to focus on this.
The business has grown steadily and has established a strong client base but, as with any growing businesses, it was difficult at first to keep pace with staff and resources when the bigger contracts started to come in. This has been greatly countered by new business development.
Moving into Europe was also a challenge as we had to establish new channels, develop new supply chains, and more complex logistics. Of course, this will all change again now, due to Brexit, but our acquisition by Colas will give us a huge advantage.
What have been the main benefits of running Allied from Moss Industrial Estate?
We're located next to the M6, M62 and M60, at the heart of the Northern powerhouse. The size of the site and its transport links make it an ideal location for our head office. We have grown on the site and the Moss Family has always been very supportive of our growth. We are currently in the process of taking on another unit and we also work with other businesses on the site, both as suppliers and to maintain our fleet of vehicles.
Almost thirty years on, how is business today and what does the future have in store?
Business is strong despite the pandemic. The business has kept going and is in a strong position. Many of our airport clients have used this quieter period to carry out some longer-term maintenance work on its runways. Despite the downturn in aviation our airport client base has grown.
Our plan is to continue growing the business through innovation and product delivery and building on our reputation within the industries along with the support of Colas.
We are also continuing to develop our staff so that we can operate more flexibly across all areas of the business.